Axia Quasar Master Module Software update version 1.3

Scope
This document applies to the Axia Quasar line of audio consoles and details the steps required to update to software v1.3. To begin, please download the software package.
The features and fixes listed below also include updates included in Version 1.2. You do NOT need to update to version 1.2 prior to installing this update.
Most significant features of this release: 
Improved Record Mode switching performance
Support for XR Four Fader Calibration (see Updating XR Fader Modules below)
Complete implementation of Loudness Meter in simple UI mode (target loudness "Traffic Light")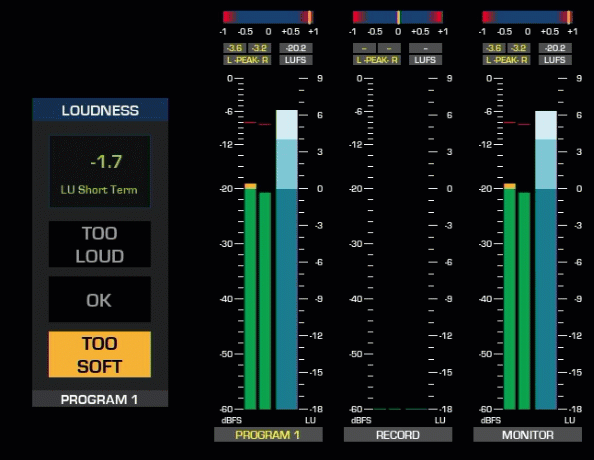 In the Source profile settings, Channel Pan is added to list of Quick Knob functions. This controls the function of the knob at the top of each fader when it is turned without first pressing to select a different function.
Other Functional improvements: 
Improved Record Mode signaling with color differentiation

Flexible record mode displayed in Orange and says FLEX RECORD.
Standard record mode displayed in Red and says RECORD.

Updated label in the Show Profile edit UI to clarify options that are valid for Standard Record Mode
Removed 4th meter option from Show Profiles that is not applicable to Quasar
Renamed some Gain controls to improve clarity of the functions
Bug Fixes: 
Fixed a Record Mode activation issue while HTML5 remote was active
Updating the MTS-MON Module: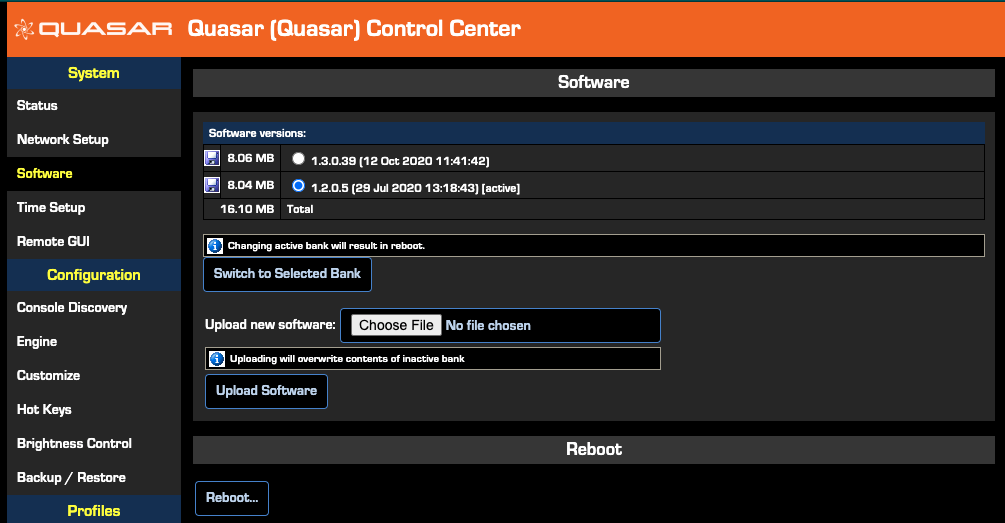 Connect a PC to your console network.
Open the MTS Control Center web page at the unit's base IP address (standard HTTP port 80).
In the System menu, select Software.
Click on "Choose File", navigate to the location where you saved the update file, and select it.
Press the "Upload Software" button. The new version will load into the inactive software bank and overwrite its content.
The page will refresh once the upload is complete, showing the new version in the unused bank. For this update, the version shown will be 1.3.0.39.
Select the new bank and press the "Switch to Selected Bank" button. 
WARNING: the console will reboot automatically once you press the button.
Quasar reboots very quickly and takes takes approximately 15 seconds. The audio will be interrupted for less than 1 second during this process.
Updating the XR-4FAD Modules
This version of MTS software includes support for fader calibration of the XR Fader modules. Version 1.2 of the fader modules software is required for this. Please review this document to download and update the fader modules if fader recalibration is required.
Let us know how we can help
If you have further questions on this topic or have ideas about how we can improve this document, please contact us.
---
---