Obtaining Logs From Your TVC-15
Scope
This applies to all versions of the TVC-15.
Description
When an issue occurs with a TVC-15 Watermark Analyzer and Monitor, the logs can be very telling as to what the cause might be.
Download the logs
Getting the logs from your TVC-15 unit is quite easy.
On the web UI, simply go to the Utilities tab. Under Logs, click on Last 5 days, Last 30 days, or All, whichever is desired or requested.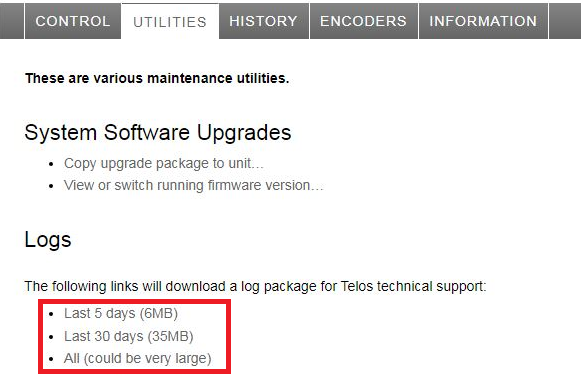 The file you click on will download to your computer.
If Customer Support has asked you for the "30-day" or "All" logs, you might need to use a file transfer application, like WeTransfer or Dropbox. Please email the logs to support@telosalliance.com.
Let us know how we can help
If you have further questions on this topic or have ideas about how we can improve this document, please contact us.
---
---