Activating Pathfinder CORE Pro Virtual Machine
SCOPE
This document covers activation of the following Pathfinder CORE Pro Virtual versions;
Pathfinder Core PRO VM (Software package) - 3001-00073
Pathfinder Core PRO VM (License) - 3002-00001 (was:3001-00073)
Pathfinder Core PRO VML License - 3002-00002 (was:3001-00439)
Pathfinder Core PRO Backup License (clustering license) - 3002-00003 (was:3001-00350)
The part number will be displayed on the license PDF you received as part of your purchase.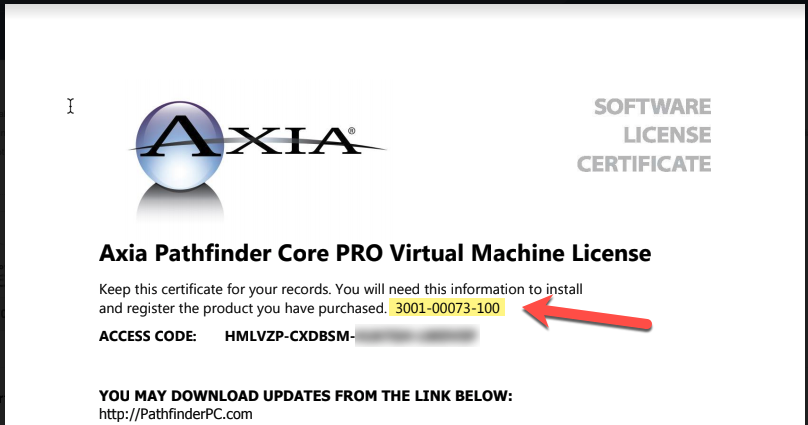 If you have purchased a Pathfinder CORE Pro in a hardware platform, your unit is already activated. This document does not apply to any Windows versions of Pathfinder PC.
DESCRIPTION
The virtualized version of Pathfinder requires activation using an access code (noted on the license PDF that you received). That access code is used in conjunction with a hardware request code that is automatically generated by your install. These two codes are used to create an activation key to fully license your Pathfinder CORE Pro.
ACTIVATING PATHFINDER CORE PRO
Using a web browser, navigate to the IP Address of your Pathfinder CORE Pro that you assigned during the installation process.
Login using the default username and password of Admin/Admin
Usernames and passwords are case-sensitive. The default uses a capital A for both the username and password.
On the left-side menu, click System and then click on the

Edit Licenses

link.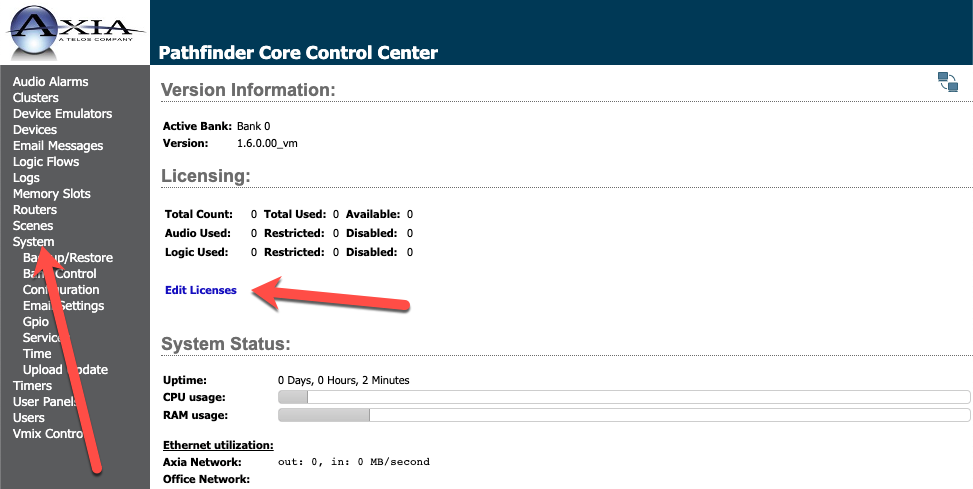 On the Licenses page, click on "New License" shown in the box.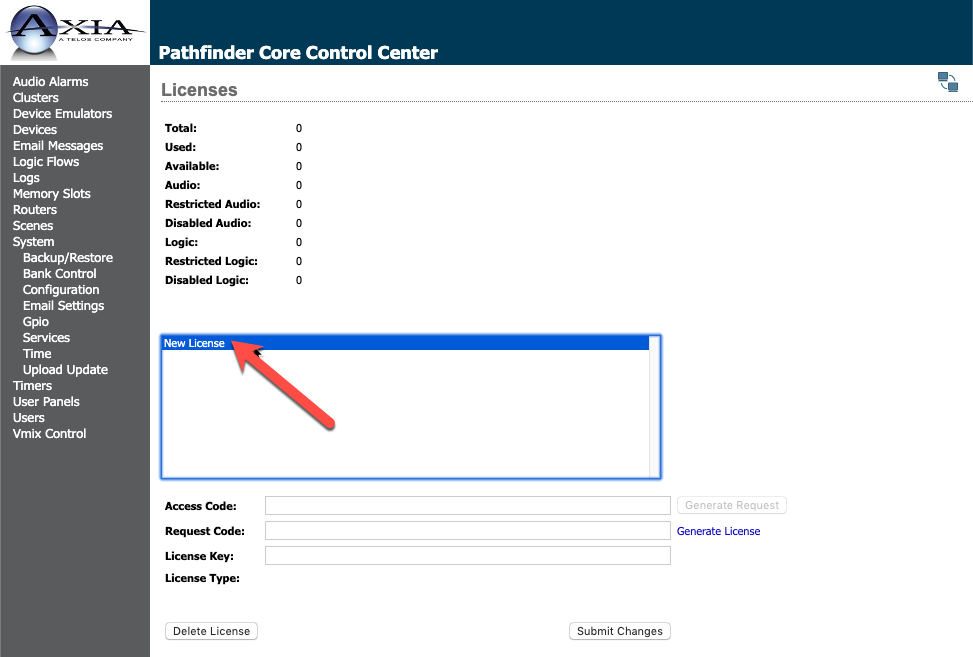 Copy and paste the Access Code you received in the License file PDF into the Access Code box and then click Generate Request.
The Access Code is case sensitive and must be entered exactly as received. If the Generate Request button is not active, there is a problem with the activation code entry. If you have copied and pasted, make sure there are no spaces at the beginning or end and that the code appears with dashes precisely as it is on the PDF.
The request code will be automatically generated. Click on the Generate License link shown in blue to the right of the Request Code box.
Assuming you are connected to the internet, you will be taken to a new web page where you will generate the final License Key needed to fully activate Pathfinder. An account is required.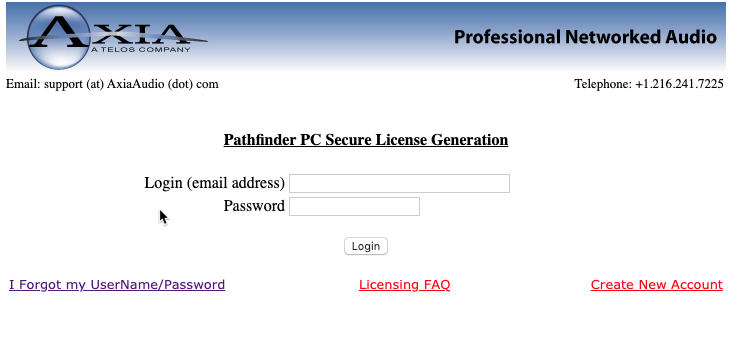 Login with an existing account, create a new account or request a lost password.
Any current Pathfinder License codes associated with this account will be displayed. The Activation Type, Access Code, and Request Code should be auto-populated for you. If not, you can copy and paste from the Pathfinder windows from the previous step.
Click the Activate button.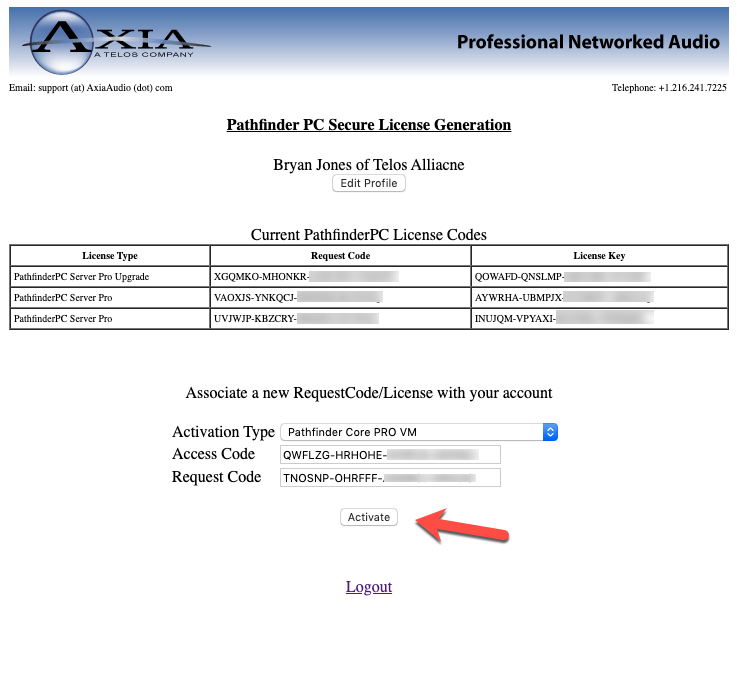 Your new License key for Pathfinder is displayed.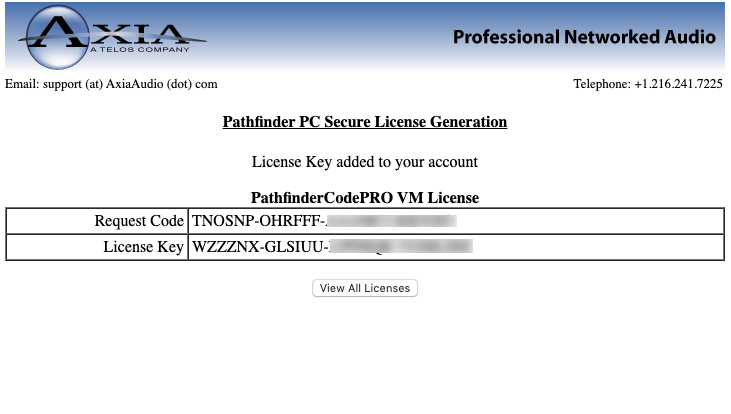 Copy and paste the License Key into the License Key field in Pathfinder CORE Pro and click Submit Changes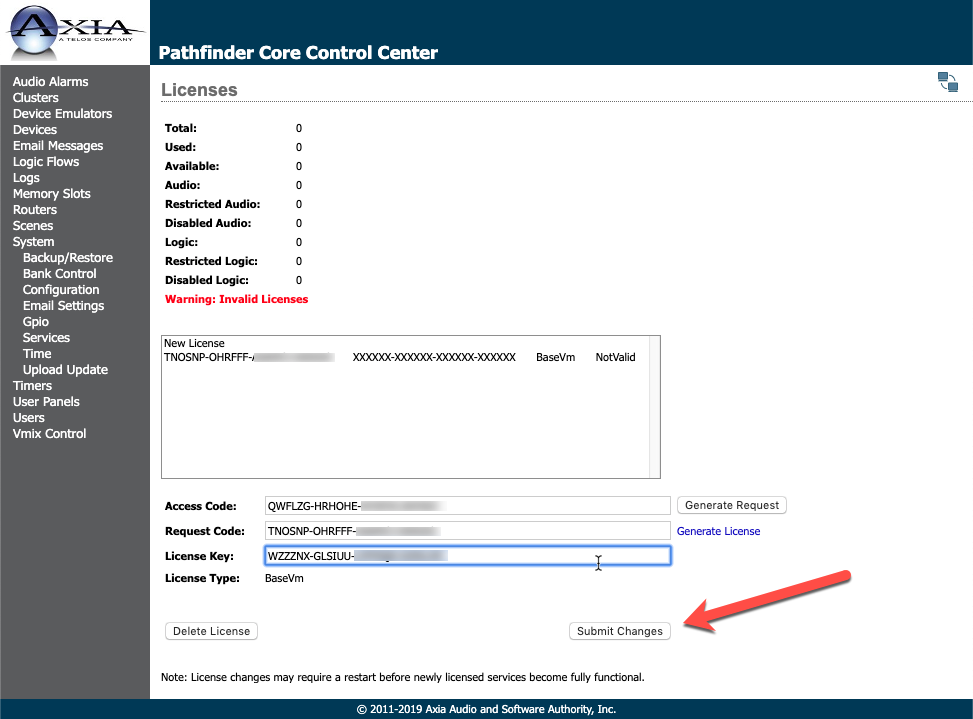 If everything has gone correctly, Pathfinder will display that your BaseVM license IsValid. You will also see that your Total number of licenses will now indicate the presence of available licenses.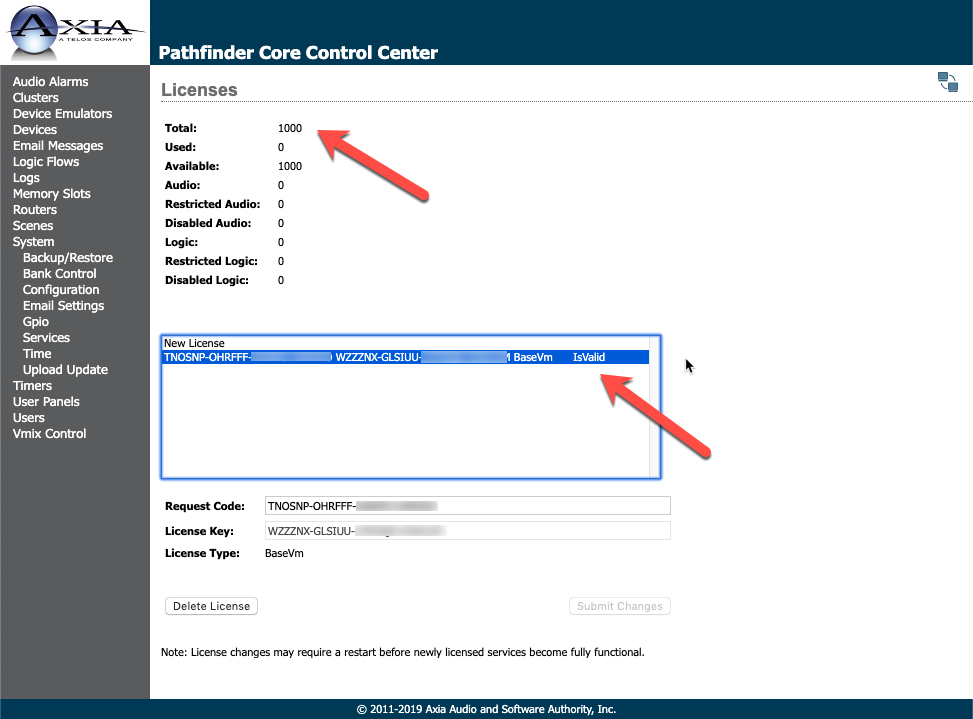 Pathfinder is now activated.
Reboot.
A reboot is required for this activation to be fully applied. Click on Configuration from the left-side menu and then click Reboot.
---
---