Using a single Z/IP ONE to feed several
Scope
This document applies to the Telos Z/IP ONE IP Broadcast Codec.
---
The Question
We are often asked, "Can I use a single Z/IP ONE to feed to several other Z/IP ONE units?"
Yes, this is possible. However, it is not particularly desirable.
---
Some Thoughts Before Configuration
To do this "one to several" operation, you merely push an RTP stream to each receiving unit. Each of the receiving Z/IP ONEs *must* have;
A static IP address.
The network's firewall configured to allow port forwarding on a selected port number.
When you use this method, you give up ALL of the intelligent operational features of the Z/IP ONE. In other words, doing this style of "one to several" takes the Z/IP ONE down to the level of its basic competitors - competitors that have no intelligent connection management.
Most broadcasters who need to feed to several sites will employ a Z/IP ONE at each end, giving them a one-to-one relationship. In this scenario, you don't need to depend on a static IP address at either end. You generally don't have to do port forwarding at the routers. Most importantly, you get all the benefits of the Z/IP ONEs' built-in dynamic connection management;
Automatic buffer-size adjustment
Automatic bit rate adjustment
Both of these keep audio flowing under many packet-loss conditions. You get the best use of your available bandwidth instead of having to settle for adjusting your sending unit for the worst-case scenario.
I hope the preceding clarifies the downside of pushing "one to several" and the upside of the "one-to-one" scenario.
---
Configuration
For purposes of this example, we will be using the Web interface. Connection is also possible using the front panel.
Log in to the web page of your Z/IP ONE.
From the menu on the Left side, click on Connect.
On the Connect page, click on the Manual tab
From the Protocol drop-down, select RTP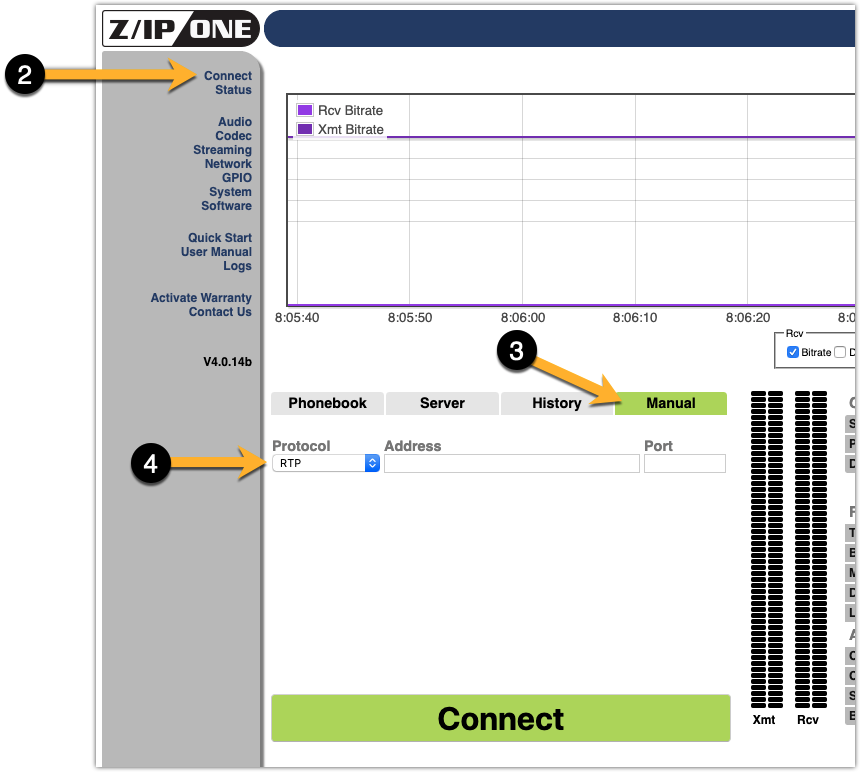 Enter the Address (the IP Address) and Port of the first unit you want to connect.
Click the Connect button.
Repeat steps 5 and 6 for EACH Z/IP ONE you want to connect.
Because this is a PUSH configuration, there is no connection status from the other end. Therefore there is none shown on the SENDING unit.
Also, note in the one-to-several scenario that if an RTP stream stops (and it shouldn't ever), you must manually stop and then restart all streams. In the case of one-to-one, you can set the connection to "re-connect" automatically, making this the better choice.
---
Final Thoughts
In the one-to-several scenario, you can receive return audio from only one of the sites you're sending to. In the one-to-one scenario, you can receive "confirmation" audio (or whatever audio you want to hear) from the remote site from *each* site.
---
Let us know how we can help
If you have further questions on this topic or have ideas about improving this document please contact us
---
---