Activating Quasar Soft and Quasar Cast on your Quasar console
Scope
This document covers the steps required to activate Quasar Soft (the HTML5 remote control application) and Quasar Cast (the remote monitoring or listening application) in your Quasar console.
---
Description
Version 2.0 of the Axia Quasar console adds HTML5 remote control and monitoring of your console from any Web Browser.
As an introductory promotion, Quasar Soft and Quasar Cast were made available 
FREE
 to all Quasar XR customers who purchased
before
September 1, 2022.
If you have not yet received your Quasar Soft and Quasar Cast license key and you purchased before September 1, 2022, please
follow this guide to request one
.
For all consoles purchased on September 1, 2022, or after, Quasar Soft and Quasar Cast are available as an
optional
upgrade from your Axia Dealer.
Checking your Version
Using a connected Web Browser, navigate to the Status page of your Quasar Console Control Center.
Note the Version: indicated at the top of this page.
If your version is NOT 2.0, please click this link and follow the instructions to update your Quasar. Once complete, return to this document to add your Quasar Soft and Quasar Cast activation key.
---
Activating Quasar Soft and Quasar Cast
A single license activates BOTH Quasar Soft and Quasar Cast
License and activation codes used here have portions blurred for security purposes.
Using a connected Web Browser, click the License Management link on the left side menu. The Quasar Soft License header will appear and say License Status: NO LICENSE CODE.

Paste the Quasar Soft license key we provided you into the License Code box, then click Add License.

The License Status will show CODE NEEDS ACTIVATION.
Feature licenses like Quasar Soft and Quasar Cast require a one-time activation against a license server. Codes may only be activated once and are only valid for a single console.
Click the Automatic Activation button.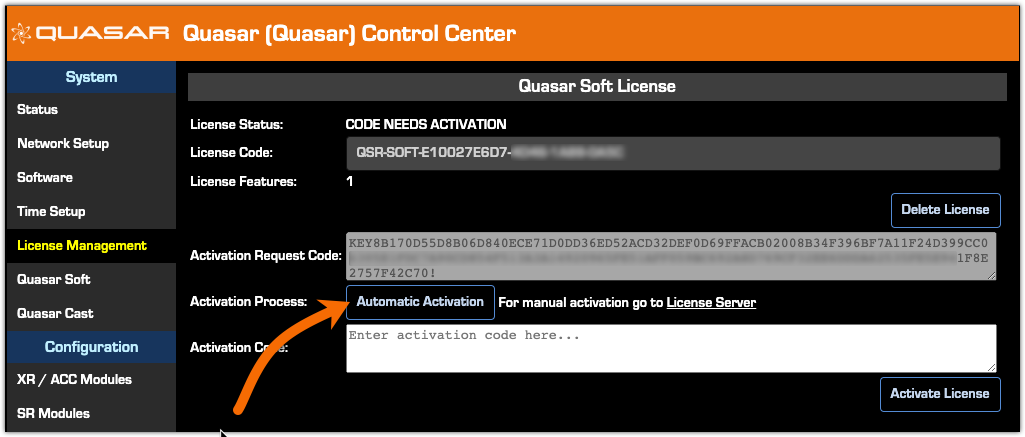 If your computer has access to the internet, your license should activate automatically, and the License Management page will show License Status: CODE ACTIVATED.

Access Quasar Soft or Quasar Cast by using the link on the left side menu. Choose your configuration preferences and click the Start button.
---
Manual Activation
If you have problems activating automatically;
Copy the ENTIRE Activation request code. The Activation Request code begins with the KEY8 and ends with an ! (exclamation mark). You must take this entire code to a computer that has access to https://secure.telos-systems.com/
Paste the Activation code in the box at the activation Web Site. There should be approximately three lines of text as shown here, beginning with KEY8 and ending with !. Do not paste your License Code in here.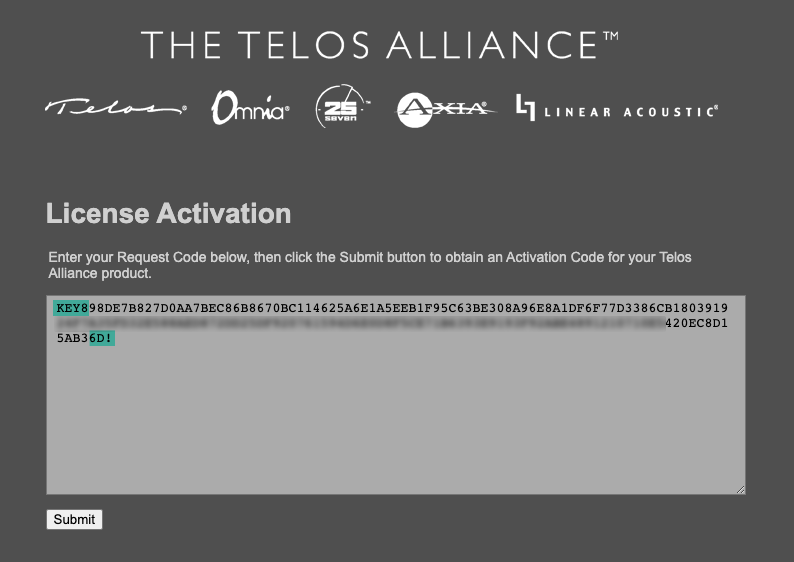 Click the Submit button
The Web Page will respond with your Activation code. Again, note that a complete activation code (like the request code) begins with KEY8 and ends with !.
Copy this entire code and return to your Quasar Soft Activation page.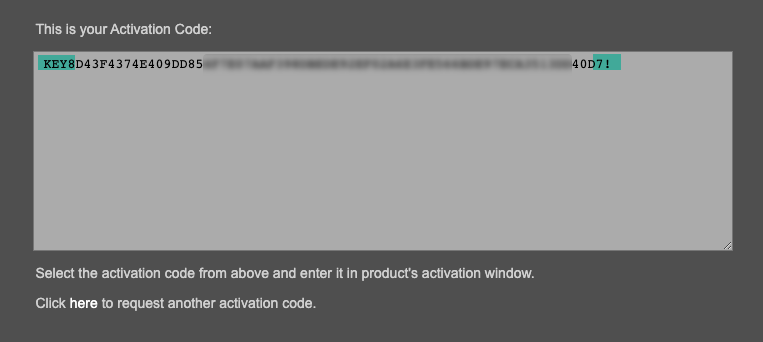 Paste the Activation Code you received from the Web Page into the Activation Code box and click Activate License
Your License Status should now show CODE ACTIVATED and you may use Quasar Soft and Quasar Cast

---
Let us know how we can help
If you have further questions on this topic or have ideas about improving this document, please contact us.
---
---