My fader modules have the same sources labeled
Scope
This document applies to the Axia Quasar console and explains how to fix the likely cause of duplicate sources on multiple modules.
Description
Two or more of your Quasar modules have the same four sources.
For this example, let's say the first and third modules (channels 1 to 4 and 9 to 12) have the same sources. Let's assume that the sources on faders 1 to 4 are correct and the sources on 9 to 12 are incorrect.
Go to the web interface of the third and incorrectly configured module.
Choose Layers Setup under the Configuration tab. Layer 1 probably indicates 1, 2, 3 and 4 are chosen.  Change it to 9, 10, 11 and 12 (hitting the '+4' twice as an easy way to do this).  Then hit apply.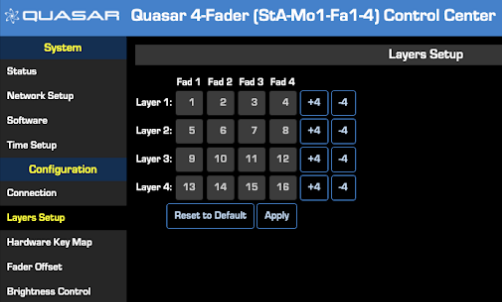 Your third module will change its sources to your desired configuration.
Let us know how we can help
If you have further questions on this topic or have ideas about how we can improve this document, please contact us.
---
---