SurCode: Adobe 22.5 Update Removes Plugin
Scope
As of June 2022, updating Adobe Creative Cloud (Premiere Pro or Media Encoder) to version 22.5 or later appears to remove the ability to use the SurCode plugin. This article describes how to fix this and add the plugin back.
---
Description
The latest update to Adobe Creative Cloud changes the name of the folder used to store plugins from "Plug-Ins" to "Plugins". Although a minor change, this update does not move the SurCode plugin bundle to the new folder when updating, nor will SurCode install to the correct folder when using the normal installer.
This means the plugin does not load properly, and therefore does not show up in the usual place in the Export window: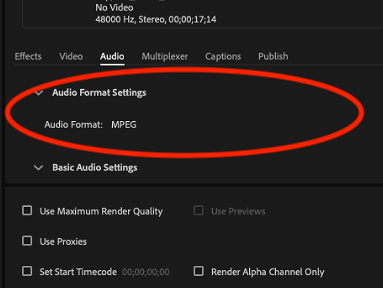 ---
Solution for Mac
Fixing this issue is relatively simple and only requires moving the plugin from the old folder ("Plug-Ins") to the new folder ("PlugIns"). These steps will work for both Premiere Pro and Media Encoder.
Note you will have to perform this procedure twice: once for Premiere Pro, and once for Media Encoder.
Go to the Applications folder and locate either the Premiere or Encoder program. Right-click and select "Show Package Contents"

Navigate thru to Contents --> Plug-Ins --> Common and find the plugin that starts with "SurCode" (the full name may be different depending on the specific product you are using:

Select this plugin, and either copy or drag and drop it over to the new PlugIns --> Common folder:

Finally, close and reopen your program. You should have the ability to use the SurCode plugin once again:
---
Solution for Windows
The Windows solution is almost exactly the same as the Mac solution; however, the Adobe programs are located in the Programs folder, and the SurCode plugin is a *.dll file.

Screenshots and a full process are forthcoming.
---
Let us know how we can help
If you have further questions on this topic or have ideas about improving this document, please contact us.
---
---