Operating Temperatures of the Omnia.11
Scope
This document applies to the Omnia.11 Audio Processor and the normal operating temperatures.
The Question
We are often asked, "What are the normal operating temperatures of the Omnia.11?"
The Answer
You can find the temperatures from the Web Interface. It can be found under the Configuration/Factory Diagnostics page. If there are any major temperature issues, they will show up in the logs as well. With the unit being in a well-ventilated rack and room, here is an example how the temperature will look like.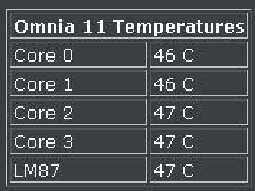 Perfect Environmental: the normal Operating Temperature is about 32 to 122 deg. F / 0 to 50 deg. C for all operating voltage ranges. Humidity: 0-95% RH, non-condensing.
All above 90-100 degrees it will be an undefined state which we may not handle as many parts can fail to work.  In cases where the unit is getting too hot (especially for a longer time), it can cause the unit to be damaged.
The Omnia.11 can run in up to a 60 degree C ambient room. At that high of an outside temperature, the Omnia.11 CPU cores can reach 100C. 100 degrees C for the CPU is the temperature maximum. When that is reached, the internal processor will "downshift" from 2.0 GHz. to about 1.7 GHz, to lower its temperature. You might hear some "pops" and "clicks" in the audio when this happens, but that would be all that would happen.
Some final thoughts
The Omnia.11 is a fanless design with heavy machined heat-sinks is completely silent. We do recommend a ventilated 1RU rack spacer above and below the Omnia.11 to ensure adequate ventilation.  Finally, it all depends on the room and rack temperature.  You should make sure for proper ventilation of any equipment being installed in the rack.
Let us know how we can help
If you have further questions on this topic or have ideas about how we can improve this document, please contact us.
---
---