Organizing Fader Numbers for an iQx with Expansion Panels
Scope
This document explains how to organize your fader numbers when using one or two expansion panels with your iQx.
If you need to physically connect your expansion panel(s) to your iQx console, click here.
Connecting the Expansion Panel with the CANbus Cable
Each iQ expansion panel comes with a 3-foot CANbus cable to use when connecting to your iQx console. On the underside of the iQx, you can use the two ports to connect up to two expansion panels. The ports are marked with the letter C in the photo below.

Arranging the Fader Numbers
Once the expansions are connected to the iQx, select the Console Config tab under Module Manager in the iQx Web UI.
You will see that Console 2 and 3 ports are inactive by default. You can use the drop-down menu under the Function column to select the correct expansion module that is connected.
Use the Fader Order arrows to organize the fader numbers to the physical placement of the expansion modules.
The Status column will indicate the fader numbers assigned to the module.
Complete the console configuration by pressing the Apply button to the right.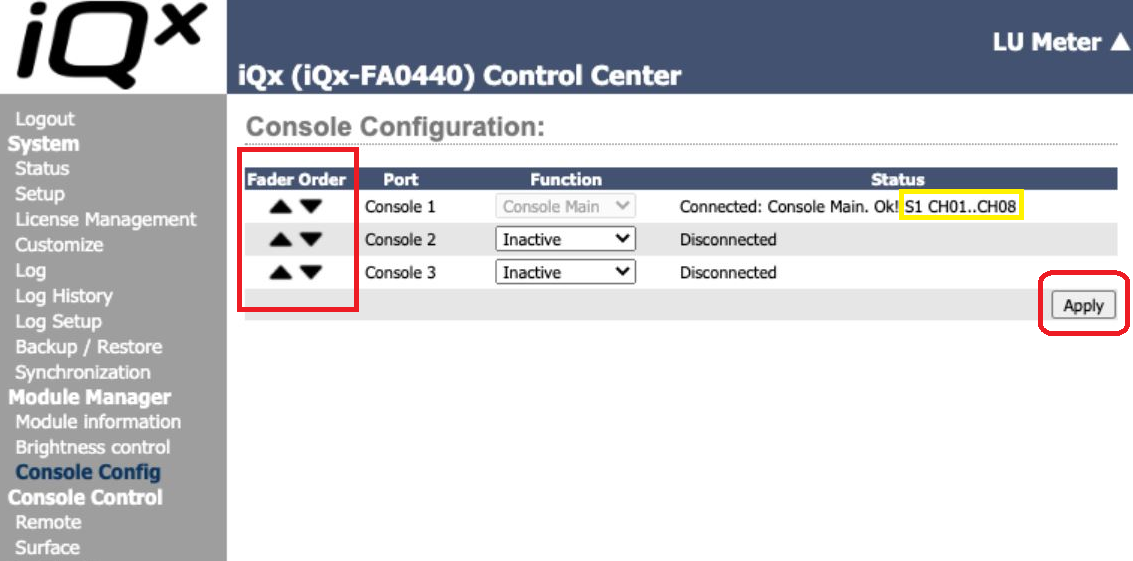 Let us know how we can help
If you have further questions on this topic or have ideas about improving this document, please contact us.
---
---