Can xNodes be used with standard POE Injectors?
Scope
This document applies to the Telos Alliance xNode family of products.
2001-00298-000: Telos Alliance Analog xNode
2001-00299-000: Telos Alliance AES/EBU xNode
2001-00300-000: Telos Alliance Mixed Signal xNode
2001-00297-000: Telos Alliance Microphone xNode
2001-00301-000: Telos Alliance GPIO xNode
All of these devices can be power by POE (Power Over Ethernet)
Description
The Telos Alliance family of xNodes listed above can be powered both by AC mains and from any 802.3af POE supply. The original IEEE 802.3af-2003 PoE standard provides up to 15.4 W of DC power with a minimum of 44 V DC and 350 mA at each port. In 2009 the IEEE updated the standard to IEEE-803at-2009; however, the xNodes only require that you meet the original 2003 standard. The newer 802.3at-2009 standard is backward compatible. You can find more information on the PoE standard here.
Any PoE supply that meets at least the 802.3af-2003 standard can be used.
Using PoE on your xNodes
All xNodes are equipped with dual Ethernet ports. Both ports are capable of Livewire, but only the TOP port is capable of powering the node with PoE.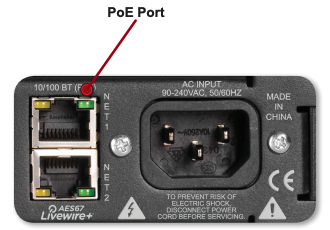 You can supply the xNode with both AC Power and PoE at the same time and, both supplies are active all the time. In other words, the xNodes will consume AC and PoE simultaneously. This is so there is no inrush of power should the AC Mains fail. Part of the specification is that the network switch providing the power will set aside the required maximum for budgeting purposes. Please refer to your network switch specifications to know how much PoE power it provides.
xNodes will consume 14 watts of PoE power maximum.
Let us know how we can help
If you have further questions on this topic or have ideas about how we can improve this document, please contact us.
---
---