Sharing Internet connection from a Windows PC with your Z/IP ONE
Scope
This article covers the process of using a Windows PC to provide an Internet connection to a Z/IP ONE. This configuration also works well with the Legacy Zephyr IP codec transceivers.
Description
Although you can use the WiFi adapters described here with your Z/IP ONE, computers equipped with WiFi generally have much better antennae and more useful services than the Z/IP ONE with the WiFi adapter alone.
Here, we'll show you how to use a network bridge on your computer to share its Internet connection with your Z/IP. This allows your computer to manage the WiFi connection while the Z/IP handles the audio streaming. It also allows you to use the Web Interface of the Z/IP ONE for control.
Tech Tip: Given the choice between a WiFi connection and a traditional wired Ethernet connection, you should always choose the wired option. WiFi can prove to be unreliable for broadcast applications, especially once everyone shows up to the event and connects their smartphones to the WiFi you're using.
Step 1: Set Up the Z/IP Network Interface
Choose an Ethernet port. WAN or LAN, it doesn't matter.
Configure an IP address, subnet mask, Gateway, and DNS (8.8.8.8 is OK) in your Z/IP that is compatible with the rest of the WiFi network.
Turn off DHCP at this port (unexpected results may occur if DHCP is left on)
Select this port (WAN or LAN) as the Streaming Interface in the Z/IP's Network menu
WARNING: Do not assign the Z/IP ONE an IP address that is already in use on the WiFi network. This will create a dreaded IP address conflict once the interfaces are bridged.
Step 2: Connect the Z/IP to Your PC
Plug the Ethernet port you just configured into an available 100/1000MB Ethernet port on your computer. (no crossover necessary)
Step 3: Create a Network Bridge
Go to the Control Panel on your PC
Select Network and Sharing Center
To the left of the menu, click Change Adapter Settings
Hold Ctrl and select both the WiFi adapter and the Ethernet adapter connected to the Z/IP
Right-click on the Wifi Adapter with both interfaces selected
Choose Bridge Connections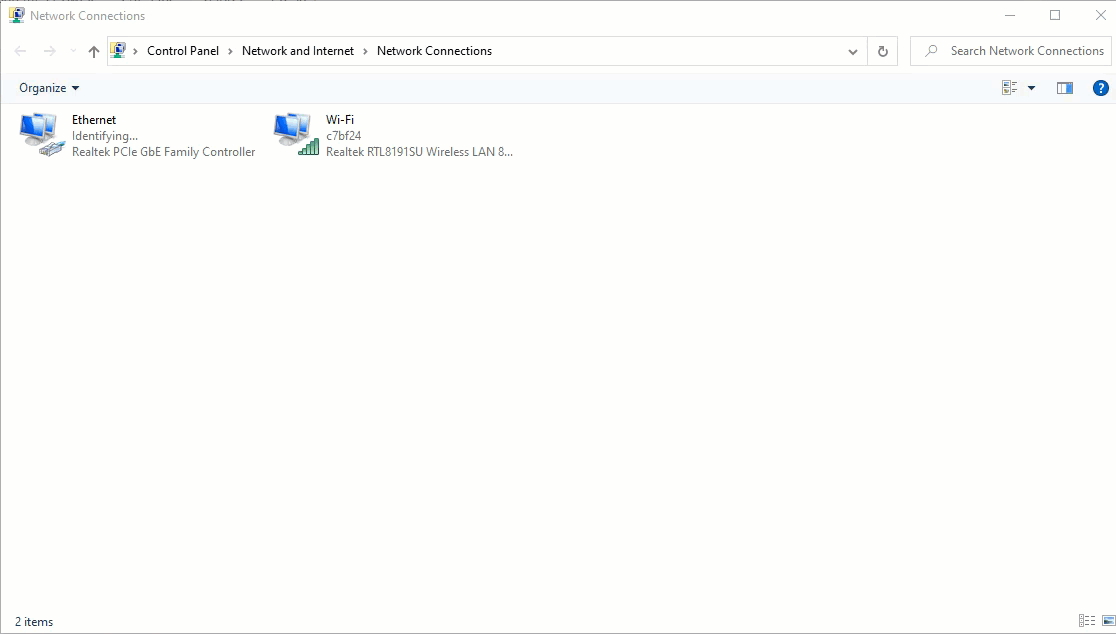 The PC will automatically configure a network bridge. This places the Z/IP onto the same network as the WiFi adapter. If the PC has a good connection to the Internet, and if you've given the Z/IP ONE a valid DNS address, the ZIP light will come on.
You're in business.
Now you can open a browser on that PC, enter the IP address you gave the Z/IP ONE, and use the Web Interface to control the Z/IP.
Let us know how we can help
If you have further questions on this topic or have ideas about how we can improve this document, please contact us.
---
---