Quasar Console Quick-Start Installation Guide
Welcome to Axia Quasar
The setup of a networked audio mixing console, though we have made it as easy as possible, is challenging to condense into a few pages. The following material is intended to help the busy engineer get up and running in a few minutes.
This Quickstart Guide assumes a few things:
That the reader has some knowledge of network basics and terminology,
That the reader is familiar with other Axia Livewire products,
And that the reader has a correctly configured network switch.
We will take you through the basic steps to configure your new Quasar and have you up and running in no time. But before we get started, let's make sure you are familiar with the Quasar System anatomy.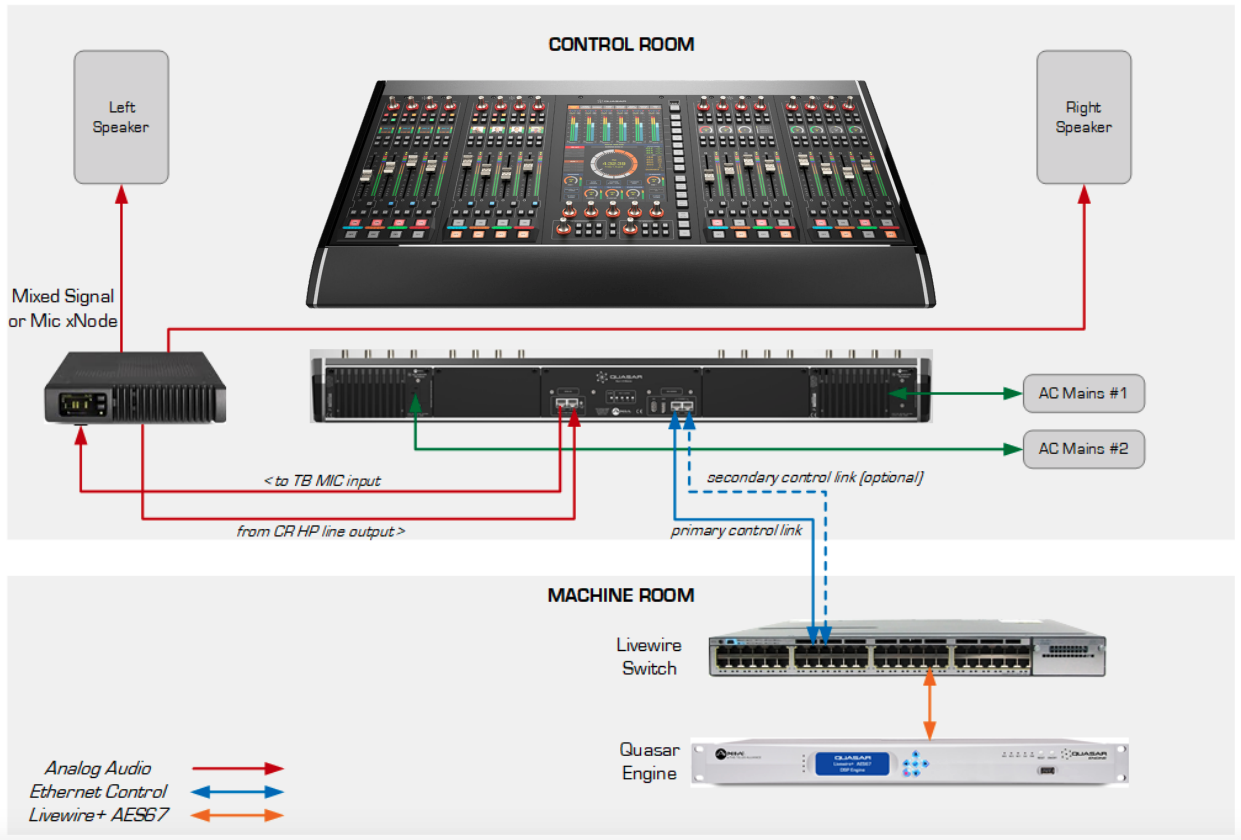 Example of simple Studio configuration. Connection of the optional TBP-IO module is included in this drawing
REQUIRED EQUIPMENT, CABLES, AND ACCESSORIES
There are a few additional items required for a successful installation. Check the list below and make sure you have what you need.
Included items:
Quasar Control Surface
Quasar Mains Cable(s)
CAT5 Ethernet Cable
Items you need to supply:
A Quasar Engine mixing engine
Switch configured for Axia network
PC with access to your Axia network
Let's check your installation type and make sure you have what you need.
You could be installing a Table-Top or Flush-Mount console, with a single or split frame.
Only the Quasar Engine can be connected to the Quasar Surface. This consists in an industrial rack-mount server platform, with redundant PSU and fans, so it will have to go in a machine room. Other mixing engines such as the fanless Axia Studio Engine, or Axia PowerStation, cannot be used with Quasar.
Steps to complete in order to get audio from the console:
Click on each of the following steps to be linked to the configuration document.
Initial Setup
Console Configuration
---
---