Fusion Replacement Fader Knobs (ABS)
Scope
Fusion non-motorized modules are equipped with black fader knobs, while motorized modules come with silver conductive knobs. However, knobs are also available in red, blue, and gray.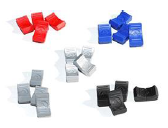 ---
The knobs listed here differ from what shipped with your Fusion console as they are non-rubberized. The ABS will not break down and are more easily cleanable. If you are looking for the original rubberized fader knobs for Fusion, click here.
All of the colored knobs are available for purchase.
Contact Customer Support for pricing information using the following part numbers:
1453-00297 Black (ABS)
1453-00294 Gray (ABS)
1453-00295 Blue (ABS)
1453-00296 Red (ABS)
While the design of this fader knob was selected to fit the look and style of Fusion consoles, Element, Quasar and QOR console fader knobs also fit Fusion module faders.
We do not recommend replacing the silver conductive fader knobs with other non-conductive types of knobs on motorized fader modules.
---
---