Infinity Portal Overview and Account Creation
Scope
This document covers initial account creation and an overview of the customer portal for the Infinity Intercom system. If you are an Infinity dealer and require dealer access, please follow the steps in this document. Please note that dealer approval is a manual process. Customers will not be granted dealer access. If you are a customer, please continue to follow this document.
Account Creation
To access the Infinity Portal you must first create an account.
Click HERE to open the Infinity Portal
Since this is the first time here, click "Register."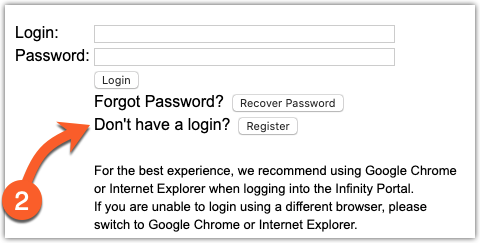 Complete the registration form
Review and accept the Privacy Policy by ticking the checkbox,
Consent to Telos Alliance collecting and storing your data from this form by ticking the checkbox
Click "Register Account" to submit the form.
You will receive an email notification after your registration is successfully submitted. Once you have received the email confirming that your registration was successful, you will be able to log in to the Infinity Portal with the login and password you created.
Navigating the Infinity Portal
Once you have logged in to the Infinity Portal you will be taken to the Welcome page.
Your name and your company name are shown in the bottom left.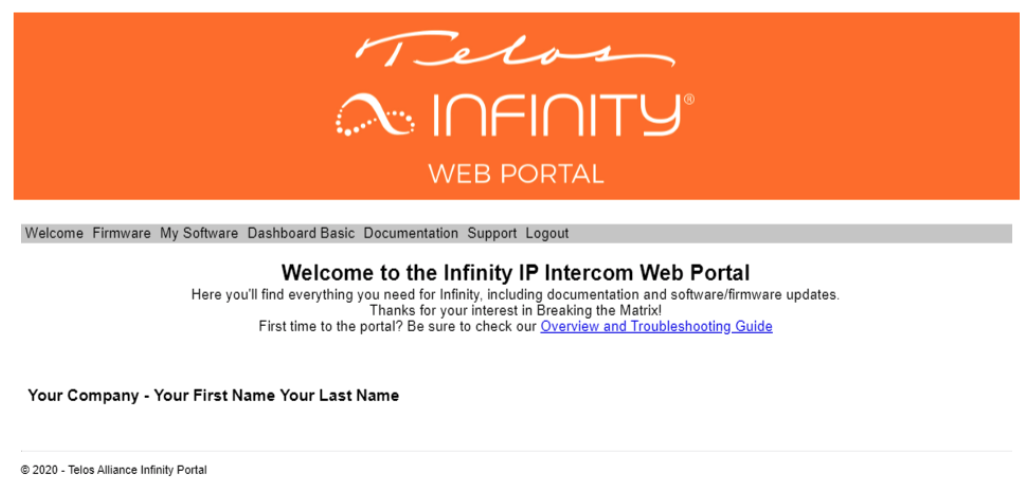 Registering your hardware
In order to gain access, you must first register your products.
Select "Register Product" from the link on the Welcome page
Select the product you are registering from the drop-down list
Enter the Serial Number from your unit
Serial numbers are located on a small barcoded sticker on the back of the unit.

Click the Register Product button
Complete this step for each product. You will receive an email confirming your product's registration.
Registering your software
To register an Infinity software product, you will need to provide the serial number, license code, and from where the product was purchased. This is similar to the hardware registered in the previous step.
Registering your product(s) is a required step in order to gain access to software downloads.

Accessing your registered products
Viewing your registered devices
From your Web Browser, navigate to the "My Products" tab. This will display the Infinity products you have previously registered.

Viewing your registered software
Once you have registered a software Infinity product with a valid license code, the "Software" tab will appear. Select this tab to download the latest versions of your Infinity software products.

*Note: You will need to register a software product, with a valid license code, in order to gain access to the software downloads tab.
Obtaining the latest firmware
To obtain the latest firmware for your Infinity hardware products, navigate to the "Firmware" tab.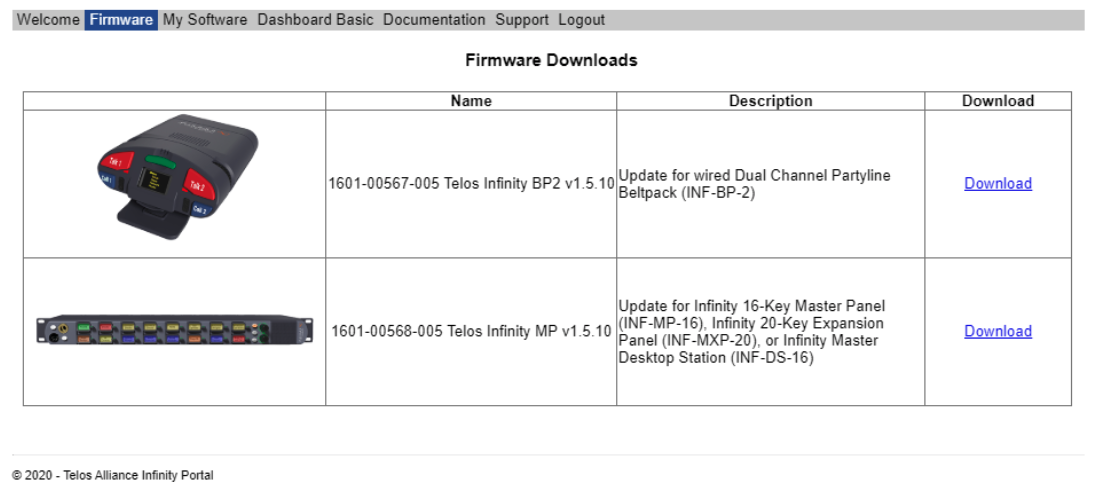 Obtaining the latest documentation
For the latest documentation, select the "Documentation" tab.

Let us know how we can help
If you have further questions on this topic or have ideas about how we can improve this document, please contact us.
---
---