Components of a Axia CANbus cable
Note that part numbers are included for reference only. Telos only sells completed cable assemblies and will not sell individual parts. Diagrams and manufacturer part numbers are provided without a warranty of any kind. We can not support customer-built cable assemblies. Cable assemblies in excess of 40 ft are NOT recommended.
CABLE DRAWING

PARTS USED
Ferrite Bead (1 required)
Telos Part Number: 1118-00035-100
Desc: FERR BEAD 211-OHM@100MHZ 14.2MM-OD X 28.5MM-L X 7.2MM-ID
Manufacturer Part Number: WURTH 74270045
Molex Connector (2 required)

Telos Part Number: 1201-00271-100
Desc: CONNECTOR, CBL HOUSING, FEMALE, 6-POS, 3X2, 4.2MM-SP
Manufacturer Part Number: Molex 39-01-2060
Molex Crimp Pins (12 required) - Not shown on drawing, 6 pins per end.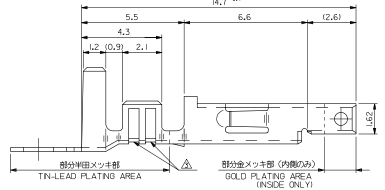 Telos Part Number: 1202-00016-100
Desc: CONT, CRIMP FOR MLX MINI-FIT, GOLD-PL
Molex Part Number: 39-00-0086 (loose) or 39-00-0085 (chain)
TE Connectivity Strain Relief (1 required)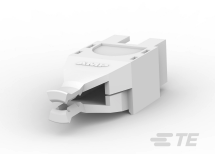 Telos Part Number: 1202-00044-100
Desc: STRAIN-RELIEF FOR MLX MINI-FIT
Manufacturer Part Number: TE Connectivity 1375618-1
Belden 7929A Cat 5e DataTuff FTP Cable (length will vary)

Telos Part Number: 1292-00037-100
Desc: CAT-5E SOLID 8-COND [4-PAIR DRAIN & SHLD] 24AWG 300V 75C BLACK
Manufacturer Part Number: Belden 7929A
.0375 black shrink tube (2 inches each end)
Telos Part Number: 1293-00002-100
Desc: SHRINK 0.375" BLK
Manufacturer Part Number: Many
Wire Ties - .01 in X 4 in Nylon (3 required)
One on either side of Item #1 holds ferrite bead in place. One used to hold Item #4 cable strain relief in place
Telos Part Number: 1326-00003-100
Desc: WIRE-TIE 3.9" X 0.1" NYLON
Manufacturer Part Number: Many
CABLE PINOUT

---
---