Obtaining and Installing Fusion 3.2.1.28 for use with Pathfinder Core PRO
Scope
Some User Panel features in Pathfinder Core PRO require an updated version of the Fusion console software that runs on your Engine or Power Station. This document describes how to obtain and install the update. This update may also be required for certain functions when using the ip-tablet software from ip-studio.
---
Description
This update requires that you are already running version 3.2.X or higher prior to installing this update. Certain functions have been added to allow more control from the HTML user panels in Pathfinder that were not part of the General software update.
---
Installing the update
The process of updating just the Fusion software does not require a reboot. However, you should plan accordingly. The buttons and fader displays will blink out for about one second. Audio will not be interrupted.
Download the file. Click here to download the fusion-3.2.1.28.tbz2 file. This is a "zipped" file. Do not attempt to extract it.
Using a Web Browser, navigate to the main page of the Fusion console.
On the left side menu, click System under the Mix Engine heading.
Click the Upload Fusion button.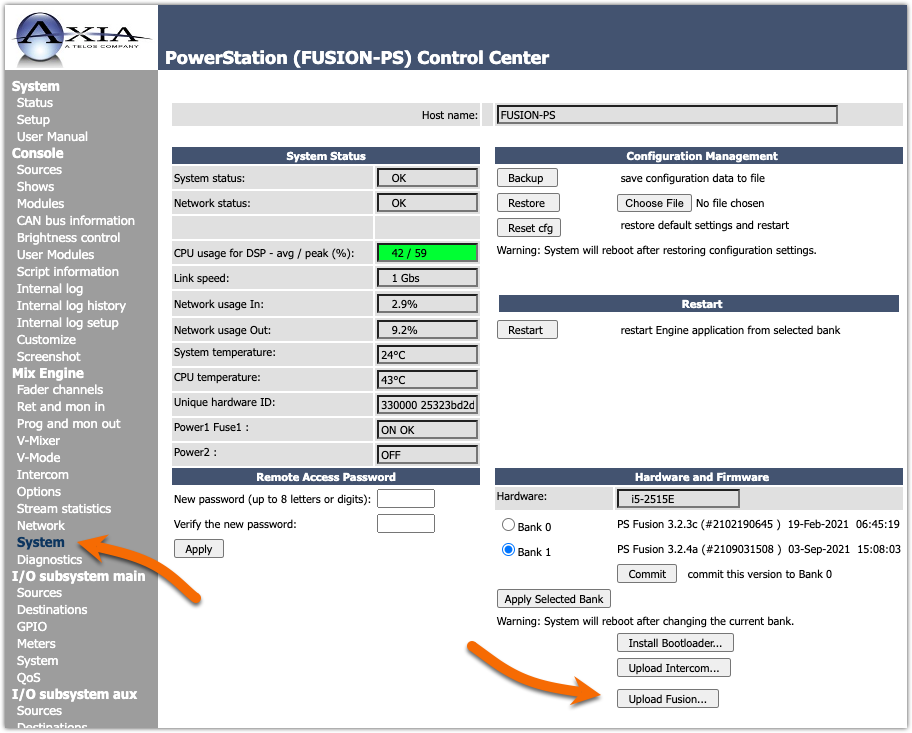 From the Fusion upgrade page, click the Chose File button
Locate and select the Fusion update file you downloaded in step one. Make sure the file name shows the correct file.
Click Upload.
Once you have clicked the Upload button, you will get a message that the update is in progress. This process should take less than one minute to complete at which time the page will display "Update has completed successfully."
Return to the Fusion upgrade page and verify that the Current version shows 3.2.1.28 as shown here.
---
Refreshing Pathfinder
You may need to refresh Pathfinder in order for it to see the new properties. Locate your Fusion console in the Pathfinder Devices list, click the recycle connection icon located just to the right of the Online status.

Answer OK to the "are you sure" prompt.
---
Let us know how we can help
If you have further questions on this topic or have ideas about improving this document, please contact us.
---
---