In Telos VX, I can't make changes to Studios or Shows - they are greyed out.
Scope
This document applies to the Telos VX product line.
Description
Occasionally you may want to make changes to your VX. You will find that some of the configuration boxes are greyed out, and the information is not editable. This condition indicates that the resource (Shows, Studios, Sip, etc.) you are trying to edit is in use. Here is an example from a Show profile. Clicking in the boxes will select it, but will not let you edit.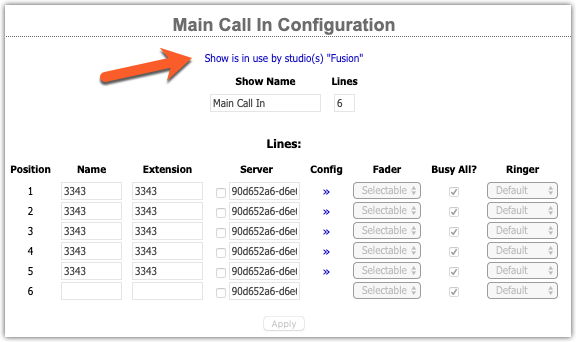 Editing configurations
You must first "unload" the resource depending on what you want to edit.
To edit Studios, there must be "No Show" currently loaded
To edit Shows, you must remove the Show from ALL Studios 
To edit SIP settings, you must remove the Show from ALL Studios
In this case, we need to modify the Show, so we will remove it from the Studio where used. The previous image shows that this Show is in use by studio(s) "Fusion."
In your web browser, click on the Studios link.
Click on the Studio where the Show is used. In our example, the Studio is called Fusion.
Set the Current Show to "No Show."
Click Change.
Repeat these steps as needed to unload additional studios.
With the Show unloaded, you may now edit the Studio or the Show.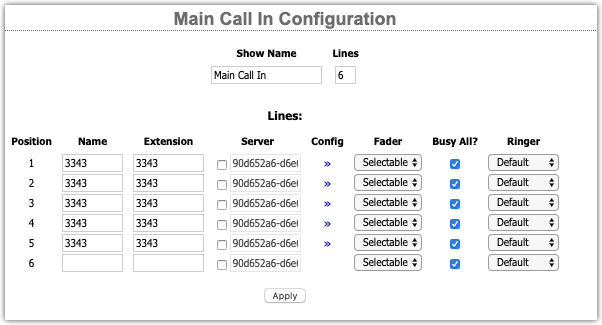 When you are done with your edits, don't forget to reload your Shows on your Studios.
Some additional notes about loading Shows.
If you use the VX in conjunction with an Axia console, it's possible (depending on how you configured it) that the Profiles of the console will "Lock" the Show to the Studio. If you find that you try to unload a Show from a Studio and it doesn't seem to work, you likely have an Axia console that is locking this Show. You will need to have your console configured to allow for the loading and unloading of shows on the VX.
Let us know how we can help
If you have further questions on this topic or have ideas about how we can improve this document, please contact us.
---
---