Z/IP Directory Server Maintenance Scheduled for June 1, 2020
Scope
This document is intended for users of the Legacy Zephyr IP and Z/IP ONE products using the directory server maintained by Telos Systems.
What's happening?
At 12:00pm Eastern Daylight Savings Time on June 1st 2020, we will be performing some maintenance to the directory servers that assist with TSCP calls made by Z/IP units.
We are currently deploying new, more powerful servers and will be decommissioning the old ones.
This is an improvement that will make the system more reliable
There will be no difference in how calls are placed
There should be no interruptions in service or calls that are currently connected. In fact, you might not even notice anything.
Who is affected by this update?
All Z/IP ONE and Legacy Zephyr IP users are affected by this update.
What do you need to do?
In most, if not all cases, you need to do nothing.
If you notice anything unusual or if you would like to prevent future interruption, just reboot your Z/IP ONE. (see note below)
If you would like to take precautions before the update, make sure "zip.telos-systems.com" is listed in the Z/IP Server Hostname field of the Z/IP ONE's Web UI Streaming page or the front panel Setup -> ZIP Server menu: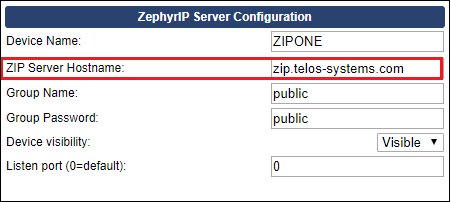 This is the factory default setting, so no action should be required unless you have replaced this URL with another value.
WARNING: If you have set rules in your firewall for communication to the directory server at a specific public IP address, this change will affect your Z/IP's ability to communicate with the new server. See the list of IP addresses below for reference to change your firewall settings.
Monitoring the Change
To see if the change has taken place, you can check System Info on the Status page of your Z/IP ONE's web UI: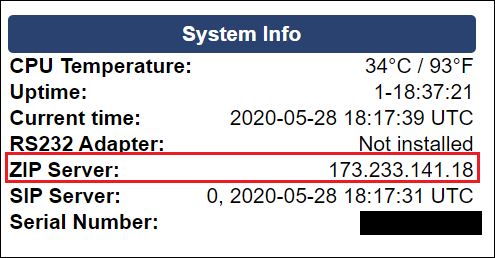 The ZIP Server line tells you what the IP address is of the server that your Z/IP ONE is in communication with. The address shown above is one of the new servers.
If your Z/IP ONE is connected to one of the old servers, you'll see one of these IP addresses:
69.41.167.210
69.41.187.20
If your Z/IP ONE is connected to one of the new servers, you'll see one of these IP addresses:
173.233.141.18
188.42.124.236
188.42.129.12
NOTE: If your Z/IP ONE is still using an old server and you would like to move it to a new one, simply reboot. The Z/IP will automatically connect to one of the new servers when it comes back online.
Let us know how we can help
If you have further questions on this topic or have ideas about how we can improve this document, please contact us.
---
---